Swimming Pool Heat Pumps
Heatpumps are becoming a very popular way to heat your swimming pool due to how cost effective and eco friendly they are.
The old way of heating a pool usually entailed LPG or propane gas, oil or electric heaters however heat pumps are much more efficient as they do not create heat, they capture heat from the atmosphere and transfer it to the water using new refrigeration technology in reverse.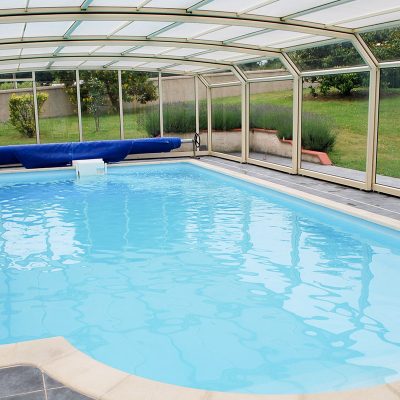 We have outdoor pools in this country, but the water temperature does not get into the comfortable zone for most of us for more than a few weeks of the year. Having a heat pump is a great way to have a warm an outdoor pool and extend your swimming season.
Due to the efficient way the systems work they are much more economical to run. The measure of efficiency used is called ecoefficiency of performance or COP. This is said to be between 4 and 5.5 which means for every kW of energy the unit uses it produces 4 -5.5 kW of heat. This rating obviously depends on the air temperature and humidity and so can vary but is much more economical than the current heating systems, saving up to 80% of normal running costs.
Suitable for indoor or outdoor pools, once the unit water reaches the correct temperature the unit reduces its own energy consumption to easily maintain the temperature of the water as it is filtered. These units are suitable for above ground pools as well as the traditional in ground outdoor or indoor swimming pools. They take up less space than heater systems and do not need large power supplies such as gas cylinders or oil tanks. These heat pumps are specifically designed to heat swimming pools and come in varying models and sizes to suit any pool. Just set the temperature and leave them to do their work.
When quoting for replacement parts or new units, we work on the below guideline
Swimming Pool Heat Pump Size Guide Chart
The sizing chart below assumes the following:
15' C / 59F ambient air temperature (realistic for start of season)
Average wind speed 2.5 metres per second
Desired water temperature 30'C / 86F
Average pool depth 1.5m / 5ft
No water table surrounding pool structure
Minimum running time 10 hours per day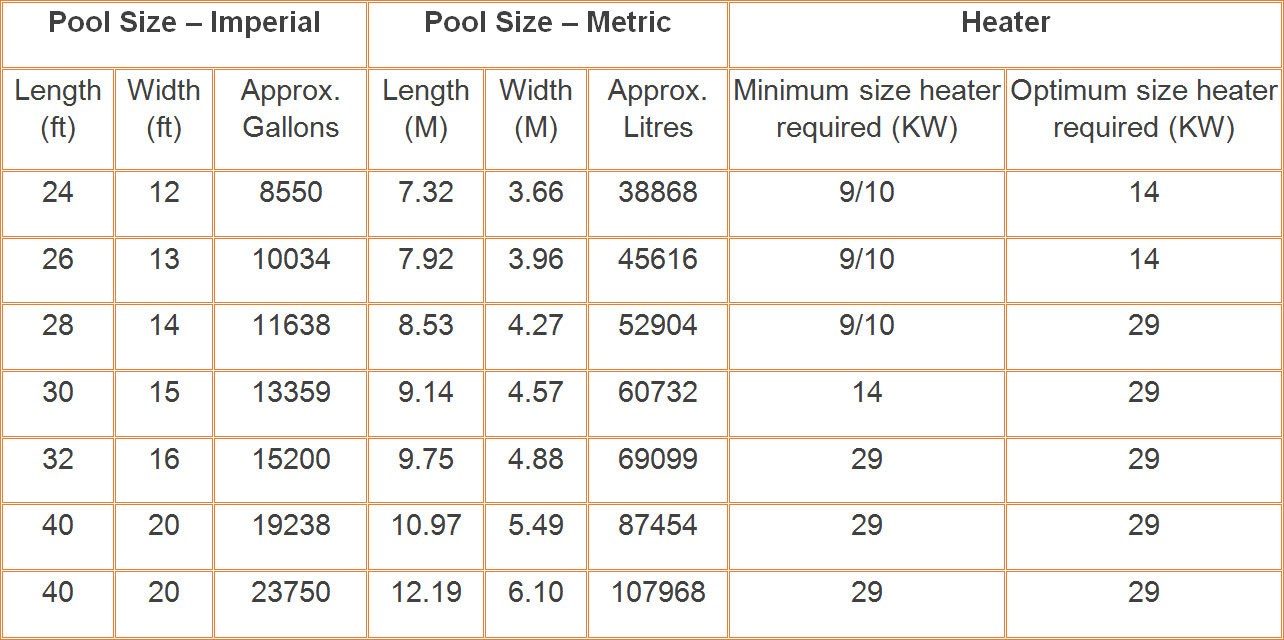 A heat pump is an eco friendly way to heat your pool
Heat pump units are also comparatively less expensive to install than heater systems, are more efficient and are much more environmentally friendly as they use a regular electric power supply – which is becoming more environmentally friendly every year.
With all this going for them it is not surprising that more and more people are wanting their pools heated this way. Allowing them a longer swimming season with warm inviting water in their outdoor swimming pools.
Berkshire Hampshire Heatpumps can install, service and maintain your swimming pool heat pump. With various units available and good advice, we will help you find a suitable unit and fit it for you. Then whether we fitted your unit or not we can offer continued maintenance and support so that you will be able to relax knowing that your pool will be warm and inviting.